Poway Real Estate Market Update – December 2018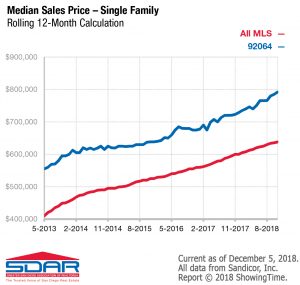 In the Poway real estate market, last month found an increase in median sales price, and a decrease in pending and closed sales for single-family homes, according to the latest information from the San Diego Association of Realtors.
New listings and closed sales
The 48 new single family home listings in November 2018 represented a 14.3% percent decrease over November 2017. Inventory of homes for sale increased 50.0% percent to 111 over the same period. Pending sales decreased, with the 30 pending listings in November 2018 indicating a 3.2% percent decrease over November 2017. Closed sales also decreased over the same period. The San Diego Association of Realtors reports that in November of 2018, a total of 27 single homes were sold in Poway. This represents a 50% decrease over sales compared to the previous year.
Price trends
Prices in the Poway real estate market continued to climb during that year-long period. The median price of a single-family home in Poway increased 19.2% between November 2017 and November 2018, to $825,000.
Market times
Homes that sold last month in Poway spend an average of 41 days on the market. This represents a 17.1% increase from November of 2017. At this rate of sale, the current number of homes on the market represent 2.7 months worth of inventory, a 68.8% increase from November of 2017.
What does this mean for the Poway real estate market?
The booming U.S. economy continues to prop up home sales and new listings in much of the nation, although housing affordability remains a concern. Although Freddie Mac recently reported that the 30-year fixed rate is at its highest average in seven years, reaching 4.94 percent, average rates were 5.97 percent ten years ago, 6.78 percent 20 years ago and 10.39 percent 30 years ago. Nevertheless, affordability concerns are causing a slowdown in home price growth in some markets, while price reductions are becoming more common.
The Bureau of Labor Statistics recently reported that the national unemployment rate was at 3.7 percent. Low unemployment has helped the housing industry during this extensive period of U.S. economic prosperity. Home buying and selling activity relies on gainful employment. It also relies on demand, and builders are showing caution by breaking ground on fewer single family home construction projects in the face of rising mortgage rates and fewer showings.
Eric and Deva Edelman of Century 21 Award provide expert real estate services to residential buyers and sellers in Poway and surrounding communities. Contact us today for more information on Poway real estate and how the changing market affects your real estate plans. For a free market analysis of your home, click here: http://edelmanhomes.myagent.site/home-value-report/
Current as of December 5, 2018. All data from Sandicor, Inc.