Poway Real Estate Market Update – October 2018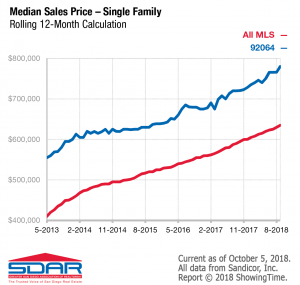 In the Poway real estate market, last month found an increase in median sales price, and a decrease in pending and closed sales for single-family homes, according to the latest information from the San Diego Association of Realtors.
New listings and closed sales
The 57 new single family home listings in September 2018 represented a 9.5% percent decrease over September 2017. Active listings increased 6.3% percent to 119 over the same period. Pending sales decreased, with the 42 pending listings in September 2018 indicating a 2.3% percent decrease over September 2017. Closed sales also decreased over the same period. The San Diego Association of Realtors reports that in September of 2018, a total of 35 single homes were sold in Poway. This represents a 10.3% decrease over sales compared to the previous year.
Price trends
Prices in the Poway real estate market continued to climb during that year-long period. The median price of a single-family home in Poway increased 21.3% between September 2018 and September 2017, to $825,000. It's important to remember that figures to can look extreme due to small sample size, and the sale of a few luxury homes in one month can greatly increase the calculated median price.
Market times
Homes that sold last month in Poway spend an average of 32 days on the market. This represents an 18.5% increase from September of 2017. At this rate of sale, the current number of homes on the market represent 2.8 months worth of inventory, a 12% increase from September of 2017.
What does this mean for the Poway real estate market?
Some economy observers are pointing to 2018 as the end of several years of high buyer demand and sales excitement for the housing industry. Although residential real estate should continue along a mostly positive line for the rest of the year, rising prices and interest rates and a general trend toward home purchase delay could create an environment of declining sales. Tracking reputable news sources for housing market predictions makes good sense, as does observing trends based on meaningful statistics. By the numbers, we continue to see pockets of unprecedented price heights combined with low days on market, and an economic backdrop conducive to consistent demand.
Eric and Deva Edelman of Century 21 Award provide expert real estate services to residential buyers and sellers in Poway and surrounding communities. Contact us today for more information on Poway real estate and how the changing market affects your real estate plans. For a free market analysis of your home, click here: http://edelmanhomes.myagent.site/home-value-report/
Current as of October 5, 2018. All data from Sandicor, Inc.